Snapper club
A week to discover the oceans
Do your children ask you a lot of questions about the sea? Sign them up to Snapper Club and let them set off on a voyage to the heart of the oceans.
What is it about? A discovery week organised during the school holidays at the Musée Océanographique. The goal: for children to learn all about the oceans and the secrets hidden within.
The Snapper Club was set up so that children aged between eight and twelve can come and discover the marine world. They are welcomed into the magical setting of the Musée Océanographique for a whole week.
The young explorers will be led by an educational team from 9am to 5pm for five days, with a whole host of games and activities around the theme of the oceans and the animals found there.
It's the perfect opportunity to awaken their curiosity, encourage their thirst for discovery and why not stir up future passions and vocations.
Observation and touching take center stage here, for a fun approach.
Your children will be aquariologists and apprentice scientists for the week: they will take samples of microscopic animals from the pools, feed the turtles on the panoramic terrace, discover the magical world of coral reefs or dive into their imagination to write a story about the oceans.
Snapper Club
Conditions and prices
300€
per child, for one week, including meals and snacks
Every day of the week, 9am - 5pm
The best people to tell you all about it are the children themselves. Like Arthur for example: "I really loved feeding the sharks, and it was great to be able to interview the explorers. The team was really nice too. I hope I can come back one day." Or Maelle, "It was great. I made loads of new friends and I loved feeding the turtles." According to Leo, "Yes, it was really good! Seeing the sharks, fish, turtles, feeding them… I loved everything that we did in the week!"
People are talking about it!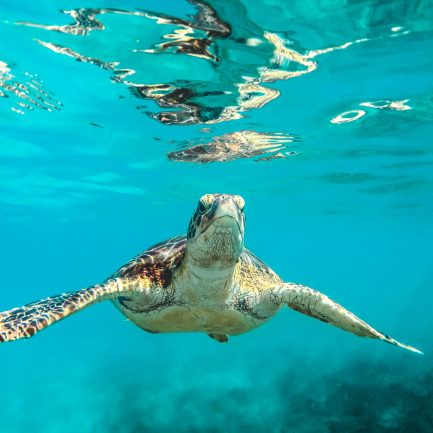 The Odyssey of Sea Turtles