Explore fluorescent coral
We sometimes make the mistake of mistaking coral for a plant. But it is an animal species. Often forgotten because it is discreet and unchanging, it populates the seabed and serves both as an elegant backdrop to this silent world and as a natural habitat for microalgae.
Some types of coral have a surprising power, which causes mysterious light phenomena… Many coral species have the ability to "fluoresce" and thus offer a real polychrome show to the fauna around them.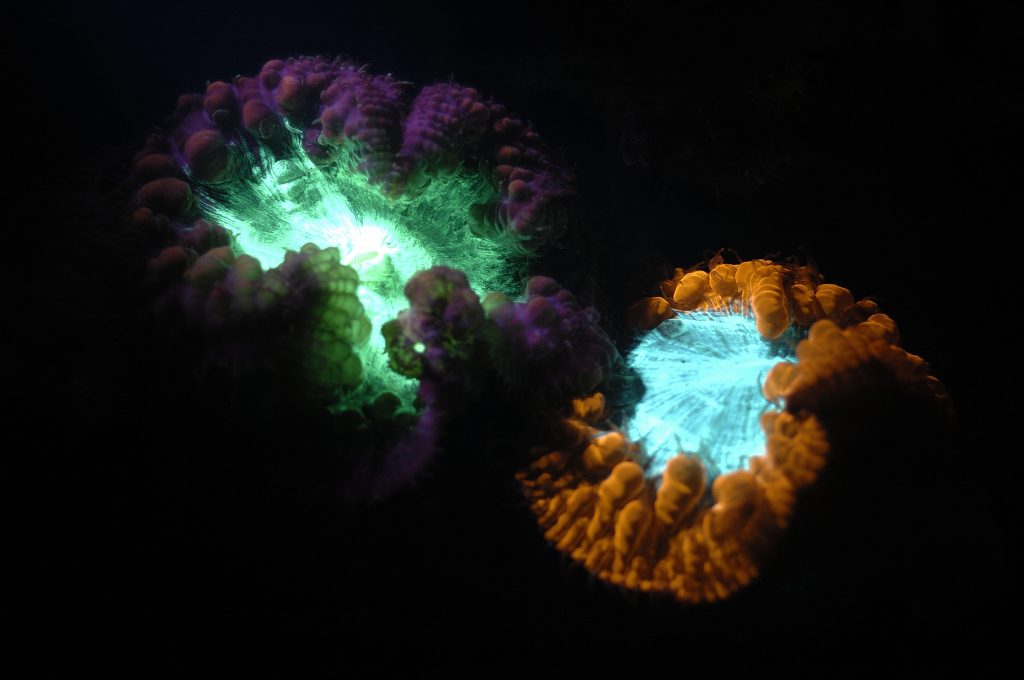 The Oceanographic Museum and its partners have been able to recreate the conditions of this rare spectacle. Thanks to them, everyone can discover and enjoy this painting with its almost unreal tones.
This new discovery space is organized around a 5,000-liter tropical pool, lit by special lights that reveal colors. Young and old will have the chance to go on a night dive, without getting wet, to discover the fluorescent corals!
The more curious can go further by looking at the scientific names of the corals gathered in this exceptional space: Montipora rose, Blastomusa, Briareum, Galaxea and Echinopora. Displayed like jewels in their transparent case, they are mainly from the Indo-Pacific region and reveal unexpected nuances with captivating power.
This installation was made possible thanks to the support of the Centre Scientifique de Monaco (an autonomous Monegasque public organization created in 1960 on the initiative of Prince Rainier III, which is a reference in the study of the functioning of tropical and Mediterranean coral reef ecosystems), Beuchat diving equipment, Nippura Ltd aquarium manufacturer and Alpheus lighting.