POLES, FRAGILE WORLDS" EXHIBITION BY GREG LECOEUR AND OCEANO MONACO
IMMINENT DEPARTURE FOR THE ARCTIC AND ANTARCTIC!
[Exhibition "Poles, fragile worlds", by Oceano Monaco and Greg Lecoeur, in 4 French stations from 3 July to 31 August 2023 and at the Oceanographic Museum from 1 July to 5 November 2023].
A partnership between the Monaco Oceanographic Institute and SNCF Gares & Connexions
From 1 July 2023, the Oceanographic Museum and the stations at Cannes, Marseille Saint-Charles, Nice and Paris Gare de Lyon will be hosting the photographic trail "Poles, fragile worlds", by Greg Lecoeur and Oceano Monaco. The images on display at the Museum and in the stations focus on the Arctic and Antarctic, which are essential to the smooth running and balance of our planet. Greg Lecoeur's work, in collaboration with the Oceanographic Institute, bears witness to the state of the polar regions in the face of climate change, and aims to raise awareness so that everyone can become an ambassador for the Ocean.
Questions about the Ocean
Discover a world tour of questions about the Ocean
No themes found
The Virtual Visit of the Museum
Discover the Museum from your living room! Thanks to a 360° high definition camera, discover the atmosphere of our sumptuous building!
On the first floor, enjoy the majesty of our rooms: Princess Alice Hall, Salon d'Honneur, Conference Room. On the second floor, explore the world's largest cabinet of curiosities dedicated to the ocean, Oceanomania, the interactive space Monaco and the Ocean and the Whale Room. On the top floor, enjoy the restaurant La Terrasse, the Turtle Island and the playground with your children.
In the depths of the Museum, grandiose aquariums of the Mediterranean and tropical seas await you, as well as the brand-new space L'Odyssée des Tortues Marines, partly outdoors.
Online coloring pages and games about the ocean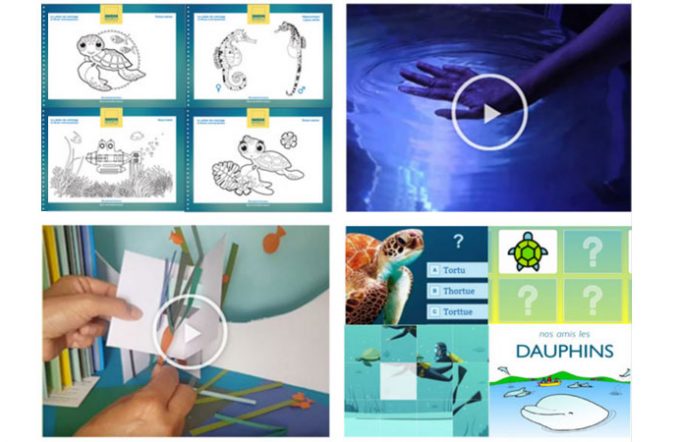 Make the oceans known, loved and protected