At the Musée Océanographique de Monaco, we reserve a special welcome for children of all ages because they are our best ambassadors: the Museum and Aquariums have been bringing magic and wonder to the eyes of children for over a century now!
Also because, as the adults of tomorrow, everything they discover here will be embedded in their memories and teach them things about the marine world which will stay with them forever…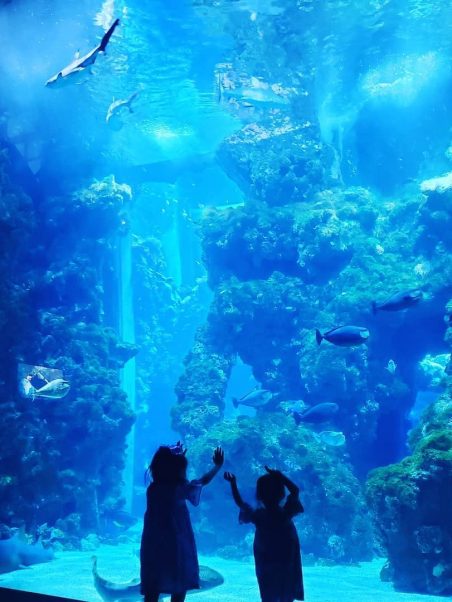 Our special family prices
Our online ticket office offers much more than just a fast-track ticket, you can also buy tickets for various events or tickets which also grant you access to other places of interest in Monaco: the Prince's Palace, the Botanical Garden, the Automobile Museum and much more
Until the 31st August, a child's ticket (4 to 12 years old, previously free) costs €8 per person and the young person's ticket (13-18 years old) costs €12 .
Find out about all our prices and our opening times, how to get here and all the information you need to plan your visit to the Musée Océanographique de Monaco by clicking below…
— Take them to the stars!
Activities: amazing experiences
Who hasn't dreamt of touching the stars? Why are clown-fish so funny? What happens if we touch a shark? Do we always have to get wet when diving?
The activities offered by the professionals of the Museum invite people of all ages to come and learn everything you could possibly dream of about the sea and marine life, with these fun, unforgettable activities… To make your visit to the Museum even better!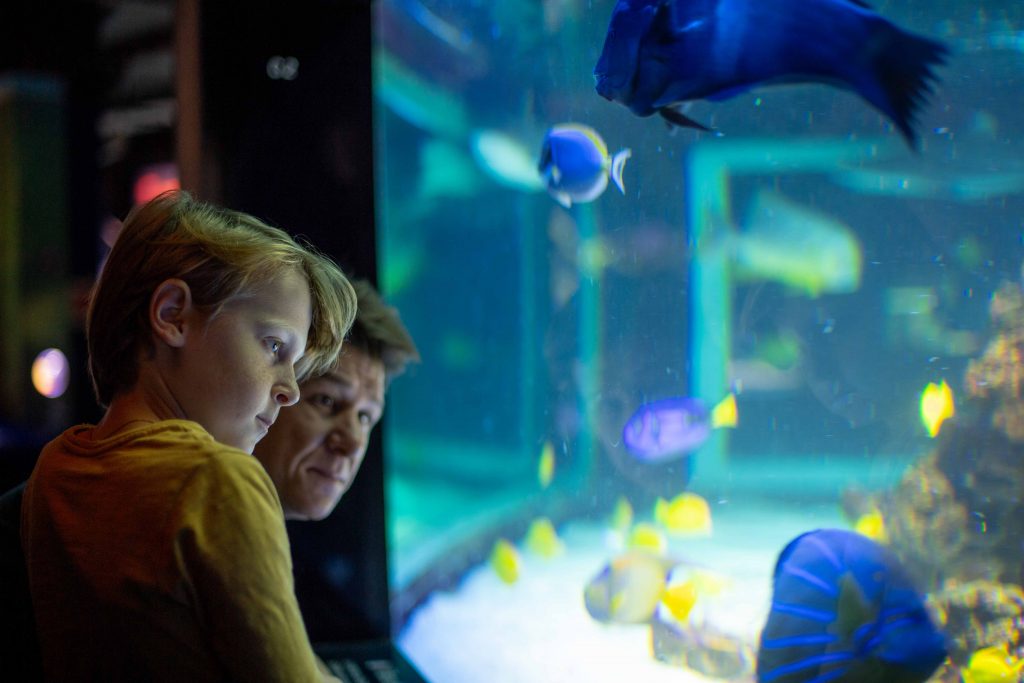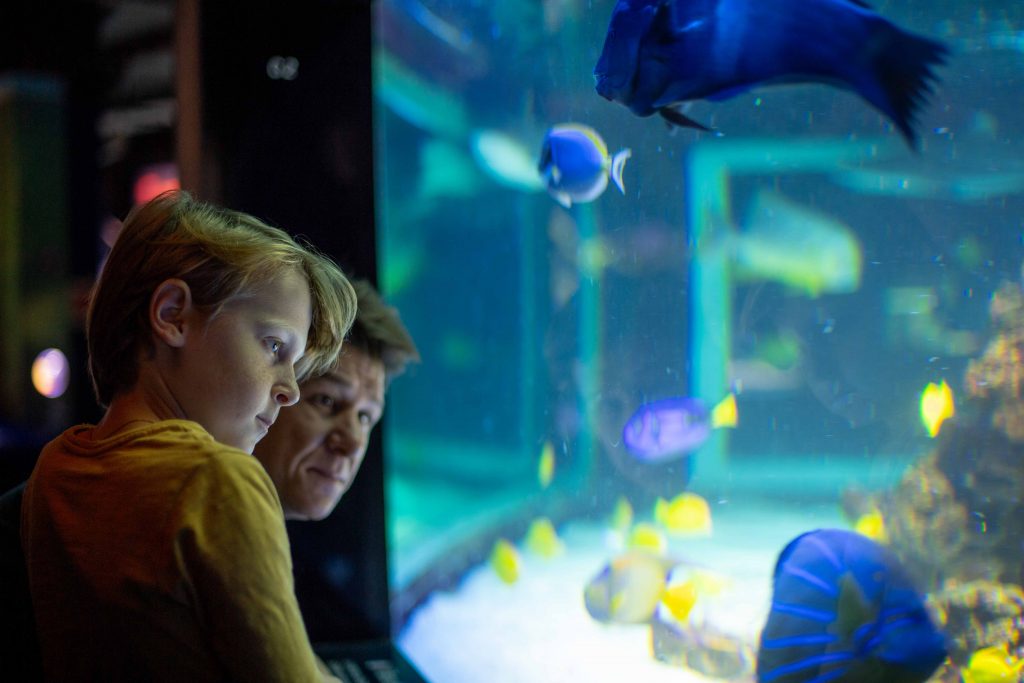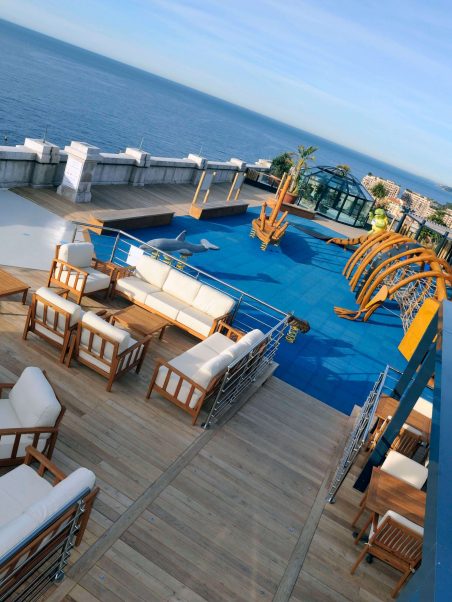 — Restaurant, Lounge, Turtle Island, playground...
A TERRACE FULL OF SURPRISES
When you visit the Museum, don't forget to go up to the rooftop terrace.
Firstly because from up there, you have a breath-taking view over the Meditarranean, Monaco and the surrounding mountains.
Then, because you can have a bite to eat there while you enjoy the panoramic view. There are indoor and outdoor seating areas, as well as a lounge area if you just want to have a drink, enjoy an ice-cream or home-made pastry. Children can also play to their heart's content in our secured, outdoor play area. 
Finally, because some species have chosen to take up residence up there. Have a good look around: they are hiding in a corner of this 600 m2 area: taking shelter in their "turtle bubble", a green enclosure where the turtles enjoy the perfect habitat with a permanent temperature of 25°C.
— A wave of emotions is hiding under their shell
THE ODYSSEY OF SEA TURTLES
Come and discover this brand new space especially for sea turtles and the story of their voyage between land and sea!
An open-air experience to get to know and protect these touching creatures who are a favourite for people of all ages…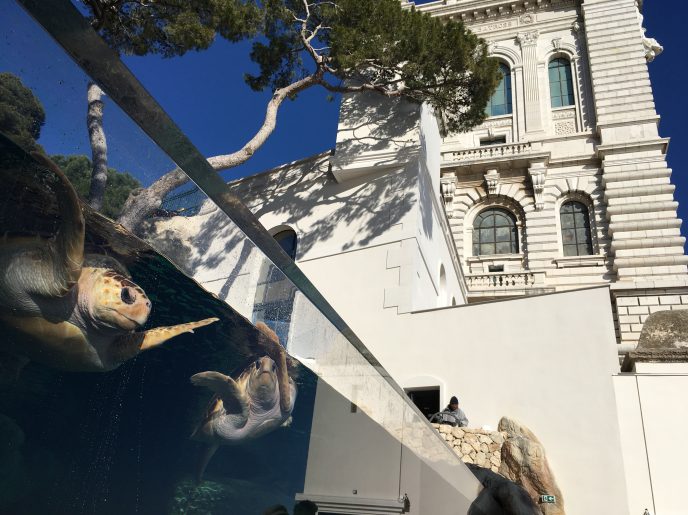 There is a "pushchair storage area" at the entrance to the Museum, because there are a number of steps throughout the Museum which makes it unsuitable for pushchairs…
Dogs are not allowed, even small ones kept in a bag. Only guide-dogs are accepted. Just a stone's throw from the Museum there is a small dog kennels where you can leave your dog while you visit the Museum.
There is no age limit to be left amazed!