After its roaring success at the Oceanographic Museum of Monaco, the exhibition "On Sharks & Humanity" travelled to Moscow, Russia, before returning to Beijing to be displayed at the National Museum of China.
View our documentary opposite and take a behind-the-scenes look at how the exhibition was put on.
This exceptional exhibition was a huge success in Monaco, drawing in over 490,000 visitors.
"On Sharks & Humanity" was then displayed to Russian audiences on 28 May 2015 at the Ekaterina Cultural Foundation in Moscow.
Here again, the works from contemporary Chinese artists were designed to make people thing about the problems facing sharks and other species of fish endangered by human activities.
As part of its "Sharks" exhibition, the Oceanographic Museum of Monaco presented the artistic initiative "On Sharks & Humanity". This was more than an art exhibition; it was a face-to-face juxtaposition with sharks.. 
This international exhibition, whose main theme is sharks and their conservation, features 11 unique works created specifically for the Museum by 10 avant-garde Chinese artists and one Monaco artist. Each work casts a singular regard on our complex relationship with sharks and, by extension, on our relationship with nature.
Visitors actively choose the form of their visit and are addressed directly by the works. As soon as they arrive, they are captured in a giant fishing net. Trapped by the power of the and the symbolic scope of the works, they become aware of the essential role played by sharks in regulating marine ecosystems and the negative impact of overfishing. From the entrance hall to the panoramic terrace, via the rooms of the Museum, large-scale installations, sculptures, paintings and poems intertwine, raising questions as to the justification of human actions.
"On Sharks & Humanity" was complementary to the sensorial and scientific exhibition of the Museum within which it was hosted, and also gave visitors the chance to express themselves by writing on a board, for all to see, their own plea to save sharks, in accordance with the principle of "Everyone is involved and everyone is responsible.".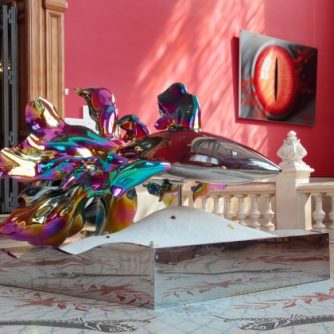 This exhibition, launched by Parkview Arts Action, draws on the works of a collective of modern Chinese artists and focuses on sharks and their preservation.
Supported by the Parkview Arts Action organisation and hosted in collaboration with the international charity WildAid, "On Sharks & Humanity" uses the universal language of Art to raise public awareness across borders and cultures.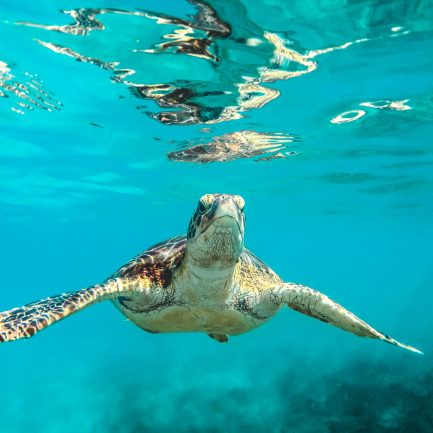 The Odyssey of Sea Turtles