Explore the tropical seas
This is one of the highlights of the visit: the abundance of a coral reef in a tropical zone.
Why is it the scene of such lush life? You will find here some keys of explanation, starting with the complementarity of the multiple species that live together. They work together to protect themselves, eliminate parasites or feed.
From microscopic algae to large predators, each one plays its role and contributes to the balance of the ecosystem.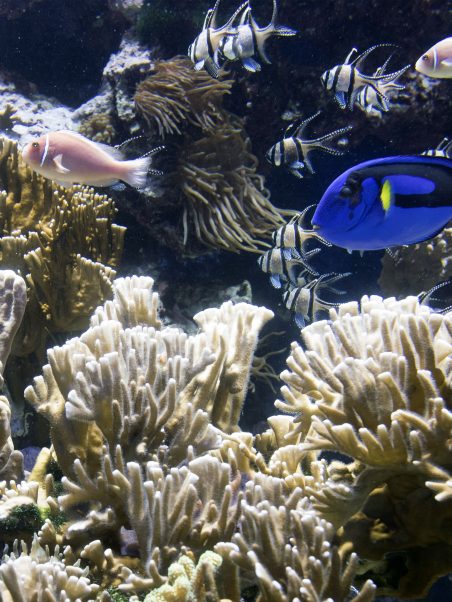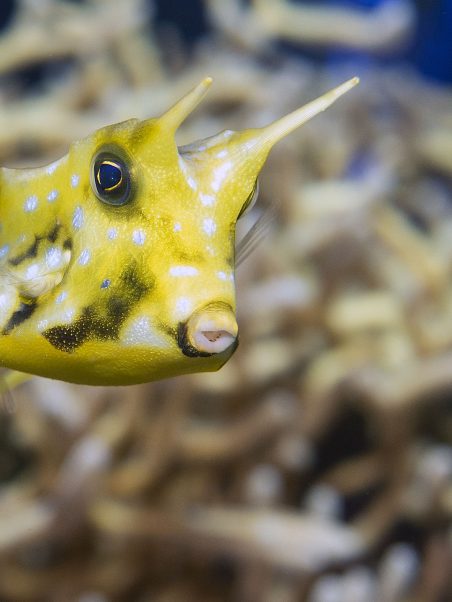 THEIR NATURAL ENVIRONMENT​
These instinctive behaviours are spontaneously reproduced by the tank's residents as they evolve in harmony in an environment similar to their natural surroundings. This harmony is carefully monitored by the Museum's specialized teams.
The beauty and the multitude of colours that make up this basin first catch our attention, then we linger on the eventful life of the reef and its inhabitants.
A MOMENT OF INTENSE CONTEMPLATION
The enchanting shapes and colours invite you to take your time to grasp all the nuances and admire all the wonders.
Everyone spontaneously focuses their attention on their favourite species and exchanges with their neighbours, in a moment of intense contemplation.
In passing, we remember the names of a few fish: the fearsome stonefish, with its deadly stings, the razor fish, or the clown fish, hidden in their anemones, and the friendly yellow trunkfish, not forgetting the worrying moray eel. The show is permanent!