The exhibition "The Littoral Zone" by Marc Quinn, which lasted from 12 May to 15 October 2012, drew in 377,000 visitors to the Museum.
It gave all these visitors food for thought as to the origins and cycle of life, via some captivating works.
Faithful to the wish of its founder Prince Albert Ist, who wanted to "combine in a single splendour the two guiding forces of civilisation: Art and Science", the Temple of the Sea opened the doors of the fascinating universe of Marc Quinn to the public. 
The mere title of the event was an invitation to explore each room of the Museum as a space where the boundaries between the land and the sea, life and death and museum and modernity disappeared like waves washing up on the shore.
In total, around sixty paintings, sculptures and installations were on display in the rooms of the Museum, and on its large forecourt and panoramic terrace. 
They included colossal marbles illustrating the growth of the foetus over the nine months of pregnancy, fascinatingly realistic oil paintings and even the artist's famous self-portrait, made from his own frozen blood. 
The work Burning Desire, a flamboyant hybrid red orchid over four metres in size, has even become a permanent part of the landscape in the Principality of Monaco, where it is now installed in the famous Place du Casino.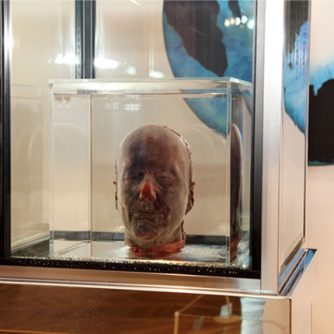 A dialogue between the past and the present, "The Littoral Zone" breaks the mould by combining historical collections with contemporary works. Visitors were able to dream, enrich their knowledge and marvel at this large-scale exhibition, a truly alchemical blend of the artist's universe and the world of the oceans.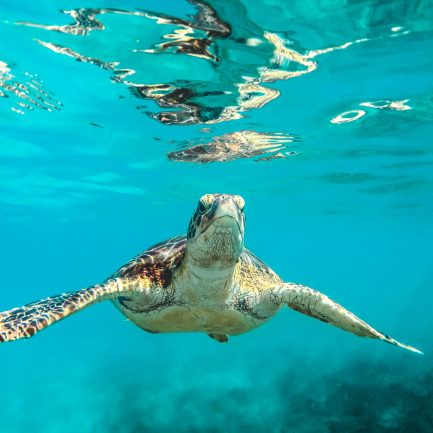 The Odyssey of Sea Turtles