Oceanomania
the largest cabinet of curiosities in the marine world
At the top of the steps of the sumptuous staircase that leads to the first floor, we enter the great hall. In front of us stands a huge wall (18 metres wide and 10 metres high) that the American artist Mark Dion has taken over entirely.
It is as if we were pushing open the doors of the Museum's storerooms, where the rarest items have been staged in the manner of the old cabinets of curiosity.
At a time when only explorers undertook distant journeys, these collections, displayed in a room or a piece of furniture, allowed their visitors to discover fragments of unknown worlds, and to travel through time or space.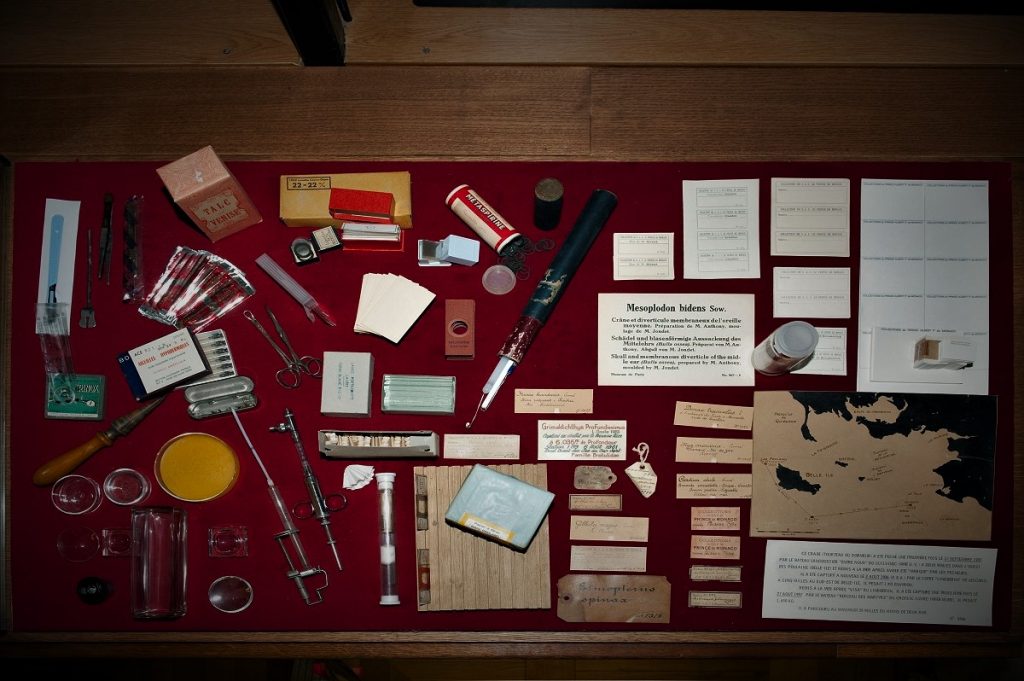 The polar bear of Greenland
As in past centuries, Mark Dion has placed natural objects on the one hand, and those related to culture and human intervention on the other. In the scent of ancient wood and wax from the hundred-year-old showcases, furniture and bookcases, you can admire skeletons, fossils, models, spacesuits, chimeras and precious books.
With a bit of imagination, one could almost believe oneself to be a century or two back in time, thinking of the incredible adventures of those who brought back these objects.
Among the most important pieces in this installation are a naturalized polar bear from the west coast of Greenland and the diving suit developed by Karl Heinrich Klingert in 1797. At the dawn of the 19th century, this German inventor was able to breathe for several minutes at a depth of 12 metres.
Between the past and the present
Inaugurated in 2011 as part of the Oceanomania exhibition, this cabinet of curiosities bears witness to the successful alliance of art and science at the heart of the Museum founded by Prince Albert I.
Continuing the path traced by the man who was one of the greatest explorers of his time, he also pays tribute to all the discoverers of the extraordinary wealth of our planet.
Between past and present, they seem to whisper messages to us to preserve the future of our environment.
The Oceanographic Museum has added to this historical and artistic element an interactive terminal that allows you to see certain objects in 3D…