Aquariums
Marvel at the beauty of the coral reefs
The Oceanographic Museum of Monaco houses one of the oldest aquariums in the world. Here, the corals are the stars. As early as the 1930s, the first tropical fish were presented with coral skeletons, in spectacular underwater landscapes for the time. Today we find pools with multiple coral fish typical of reef environments.
This stage of the Zoom corail offers visitors to stop in front of the Grand Bac corail (Lvl -1) and the Bac Djibouti (Lvl -2) to take the time to marvel at the ballets of the living taking place before their eyes.
All the corals visible in the Museum's aquariums (over 150 different species!) Are alive. Among the multitude of soft and hard corals in aquariums evolve reef fish such as clownfish, rabbitfish, damselfish, surgeonfish, fusiliers, triggerfish, angelfish, barbers or butterflyfish, but also invertebrates (anemones, sea urchins, shrimps, sea cucumbers…).
Today, the largest aquarium in the Oceanographic Museum – a 450,000 liter tank of seawater located at level -1 – reconstructs the ecosystem of a coral reef.
A variety of shapes, colors and striking species to discover!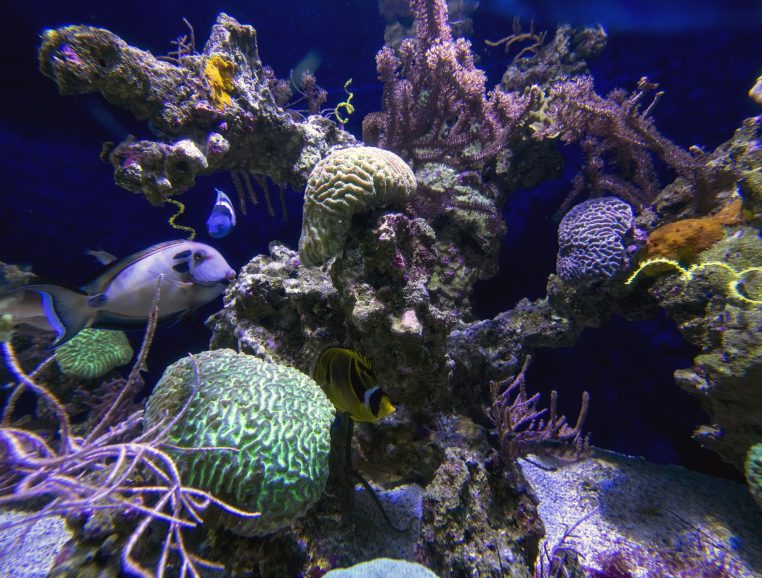 The birth of coral culture
At the end of the 1980s, the Museum embarked on the presentation of living corals and pioneered their maintenance and reproduction outside their natural environment. This is how coral culture began at the Museum more than 30 years ago. The specimens implanted at the time have multiplied and still live!
This represents a world record… and a source of pride for the teams. The aquarium from which it all began is located on level -2 of the Museum.
go further in the coral course