At the celebrations of the Hundredth Anniversary of the International Union of Geodesy and International Geophysics, at the headquarters of UNESCO in Paris, the guest of honour, HRH Albert II, was awarded the status of Member of Honour and gave a speech for the occasions.
H.S.H Prince Albert II of Monaco
United Nations General Assembly, 24 Sept. 2019
the principality's climate commitment
The Government of Monaco has committed to achieving carbon neutrality and is devoting the necessary resources to achieve this, according to Prince Albert II, who spoke at rhe United Nations General Assembly. The Sovereign also focused in his speech on the role of forests and, even more so, on the role of the ocean. Monaco has "always supported science in the past", he added.
Climate change and the collapse in biodiversity are far from being isolated incidents: they are both alarming symptoms of the Anthropocene and a response must be found to them in synergy.
- Paris, headquarters of UNESCO - 29th July 2019
Centenary of the International Union of Geodesy and Geophysics
The imperative need to protect the ocean is upon us, following on from the time of discovery and knowledge of the seas, which was incidentally the time of my great-grandfather.

Monaco strives to follow in his footsteps and to develop his legacy by passing on his message loud and clear.

Through their very own initiatives, like suggesting that partners widen the scope of their own actions, the Principality aims to be a "voice of the ocean"…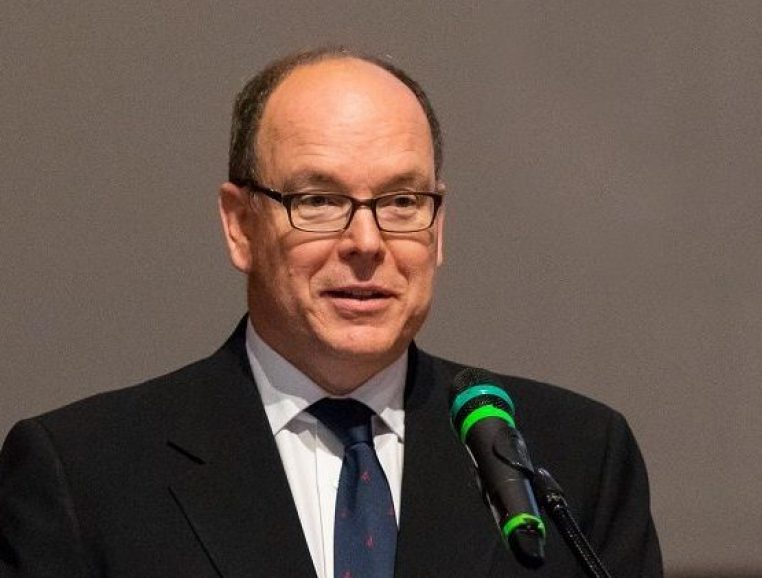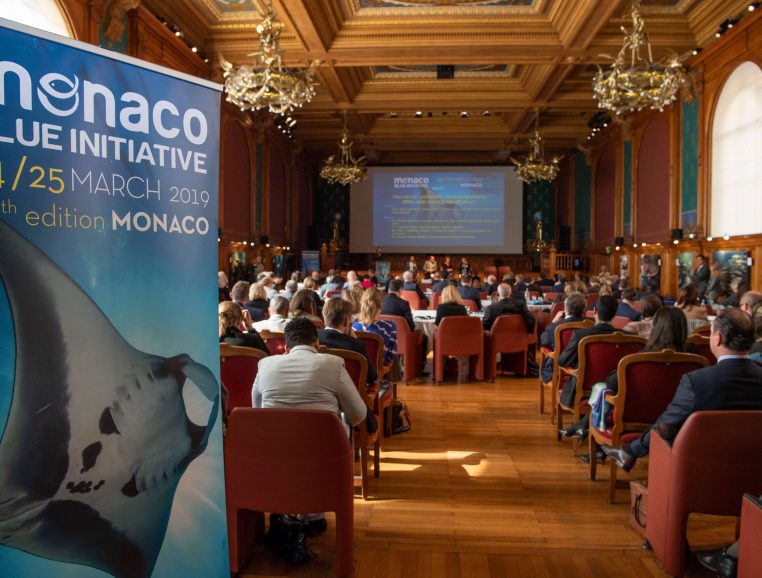 - Monaco Blue Initiative, 25 March 2019
A quote from the great historian Jules Michelet often comes to mind when I enter the Musée océanographique, which is on the Mediterranean coast.

"All geography should begin with the sea."

We also know that all history should begin with the sea, as we know that we were born from the ocean and our civilisations arose from that sea.

But the sea is also where all economies should start.

I am convinced that, more and more, the sea will be where all politics, all morality and all philosophy should begin.
- Monaco, Musée océanographique, 16 April 2019
Meeting of European oceanography centres
I think it is necessary, as you say, to give the general public a better understanding [of ocean science issues]. People like information that tells a story, and if we can draw their attention to the different ways of telling this story, in a more engaging manner, I think that would definitely be useful.

 
Listen to a recording of the speech in English.
Ecouter le discours (anglais)

00:00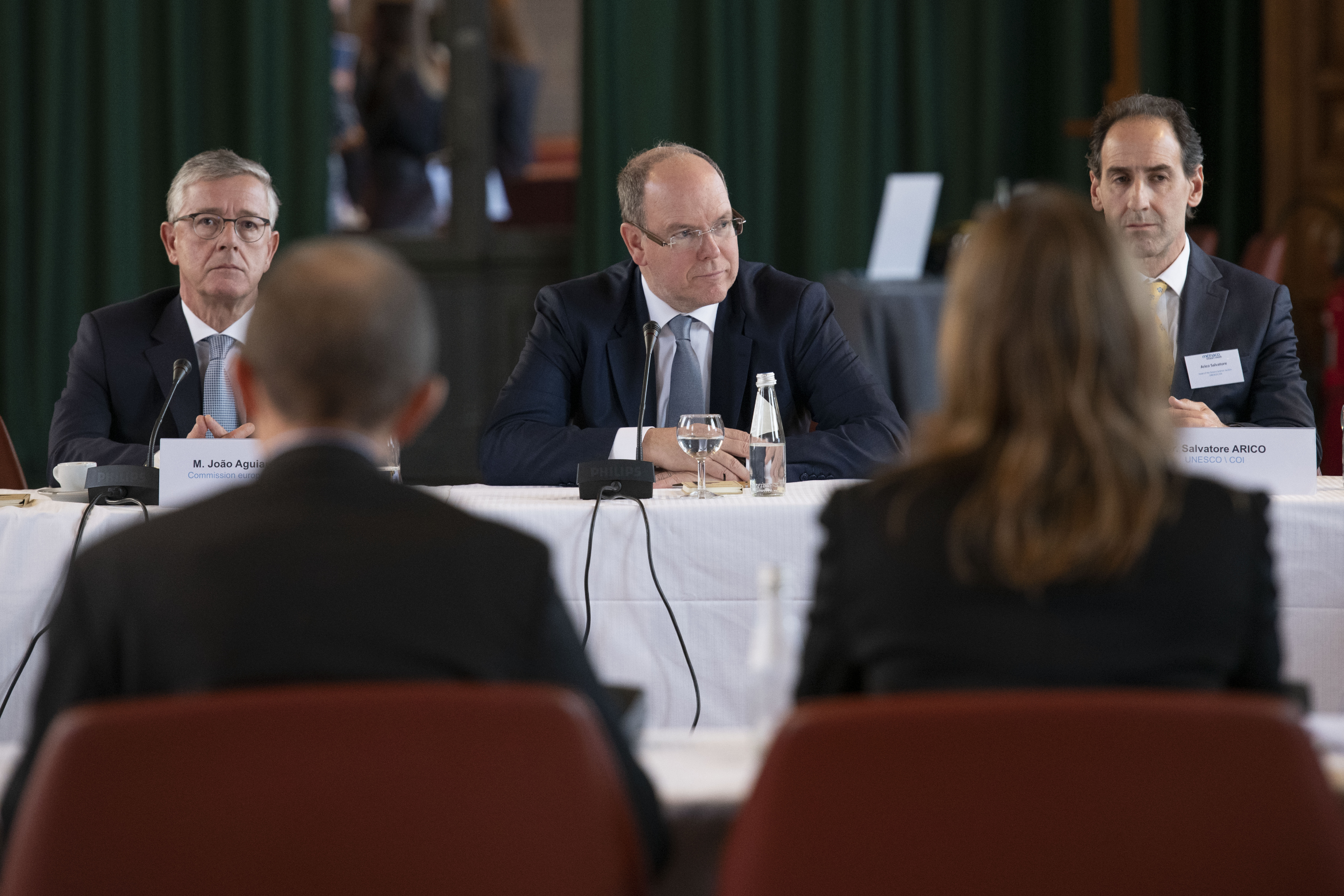 - New York, UN headquarters, June 2017
Speech on the Sustainable Development Objectives for the Ocean
At a time when the international community is becoming aware of the plight of the oceans and has outlined the principle of an essential collective responsibility, I cannot help but think of this phrase from Aristotle that we all know well: "There are 3 sorts of people, those who are alive, those who are dead, and those who are at sea". This citation summarises the idea of our seas which have for too long seemingly escaped the general laws of Humanity.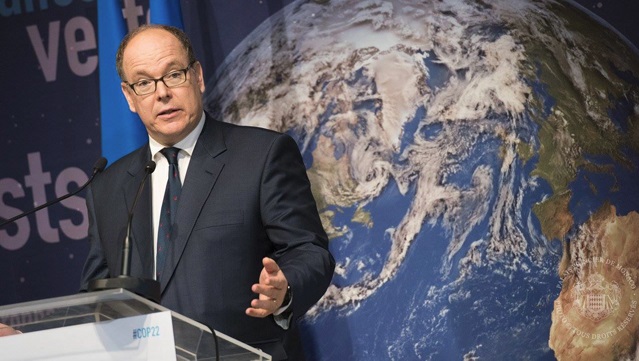 - Marrakesh, 12th November 2016
COP 22 Conference - Marrakesh
Since the world is now ready to start thinking of the seas, of inventing a new way to live in harmony together, it is our duty to offer practical, useful and effective solutions, which alone will help to protect them, and to protect their essential ability of mitigating climate change.
Speech by HSH the Prince Albert II of Monaco, for the 74th edition of the Marine Environment Protection Committee, London – 13th to 17th May 2019, International Maritime Organisation.
Speech by HSH the Prince Albert II of Monaco, to the General Manager of UNESCO for the First Global Planning Meeting in preparation for the UN Decade of Ocean Science for Sustainable Development
 
BALLOON-FREE PARTY
Balloons have to go but the party continues!
Balloon-free parties initiative
Balloons are party symbols. They suggest celebration, joy and togetherness… but once in the great outdoors, they end up in the ocean and become a threat to the environment.
Many sea turtles, dolphins and birds mistake them for food and die after swallowing them. The Principality's Government, the Fondation Prince Albert II de Monaco and the Institut Océanographique are joining forces to lead a "Balloon-free parties" initiative to encourage citizens to get involved and contribute their ideas for alternatives that would be every bit as festive but more eco-friendly. Together, let's celebrate without harming the sea turtles…
What becomes of a balloon once it's released…
When released, a balloon climbs in the sky until it deflates, or bursts into several pieces due to the decrease in atmospheric pressure.
The debris then falls to the ground or into the sea, far from it was first released. According to the United Nations Environment Programme (UNEP), balloons are among the top 10 items of recreational waste found along the coastline. They can travel thousands of kilometres and pollute even the most remote and unspoilt areas.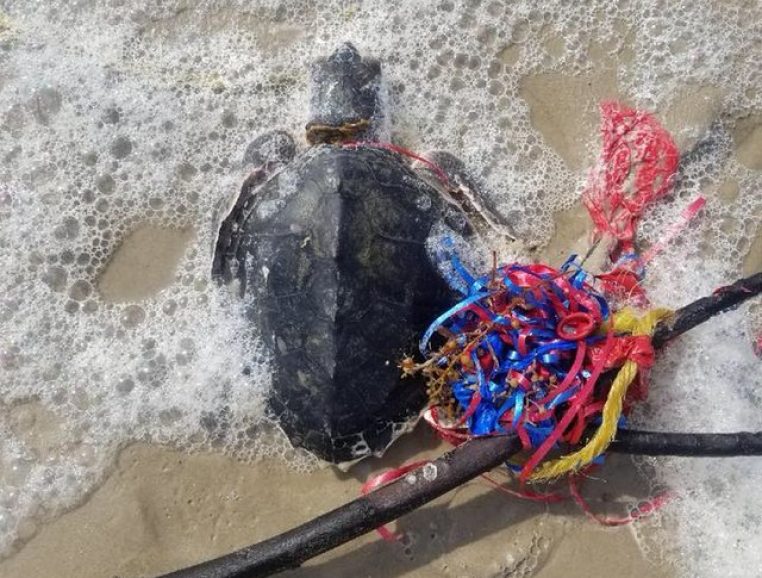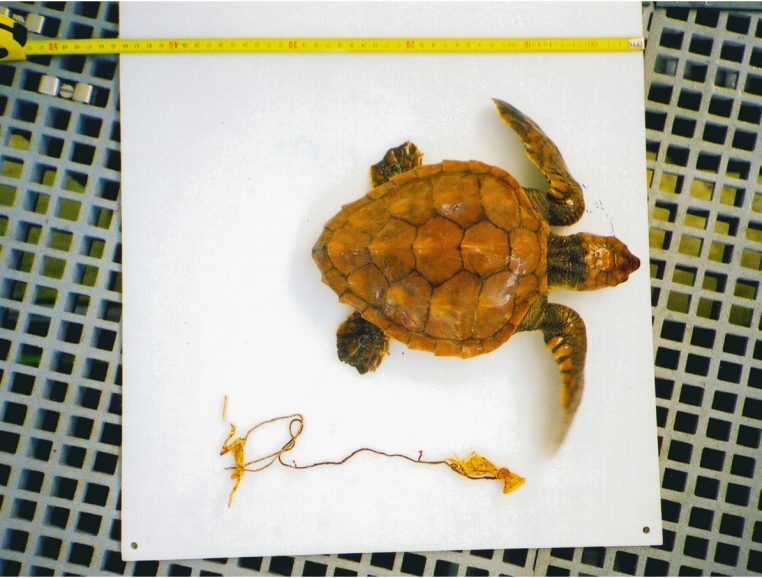 …and what are the consequences out at sea?
Balloons have a negative impact on our environment, polluting streams, lakes and beaches. Releasing a balloon is just as undesirable as deliberately throwing rubbish onto the ground or into the ocean.
When balloons float in water, their ragged edges sometimes make them look like jellyfish or other marine species that are preyed upon by turtles, fish, dolphins and other creatures.
Mistaken for food, the pieces of balloon are ingested, by a turtle for instance, and remain stuck in its digestive tract. This means the animal cannot eat properly and suffers a long and painful death.
This young loggerhead turtle measuring about twenty centimetres was taken in by the Musée Océanographique and was saved when, at death's door, it finally succeeded in evacuating the rubber balloon it had swallowed.
Land-living wildlife can also fall victim to balloons and balloon strings when fragments end up on roads and riverbanks or in trees and bushes.
Birds have been found wounded by pieces of ribbon wrapped around their beak or wings, or strangled after getting tangled up in string attached to branches or power lines.
And just like marine wildlife, they sometimes die after ingesting balloons. Unfortunately, nearly half of all seabird species are at risk of swallowing such debris which has even been found in nests where birds have been observed feeding it to their young.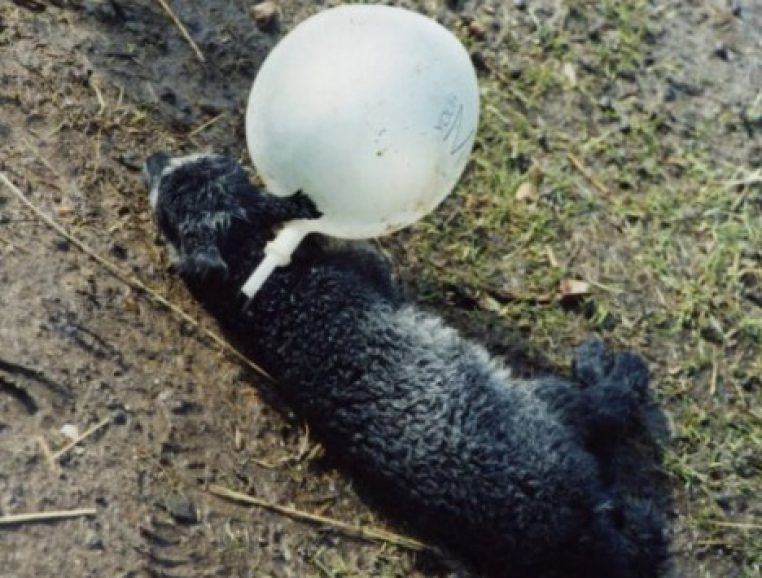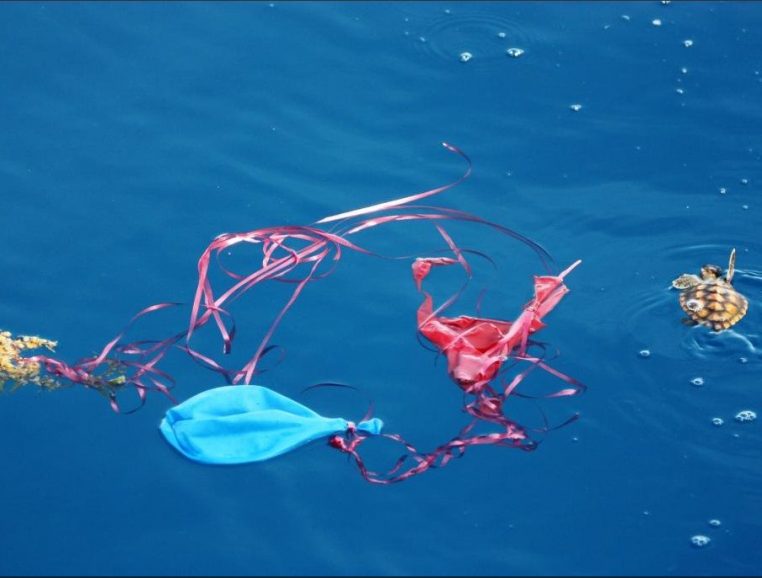 WHAT KIND OF BALLOONS ARE WE TALKING ABOUT?
The issue is with "Stray balloons carrying no passengers and no payload (in particular, rubber balloons and floating lanterns without payloads or carrying only trivial items such as postcards)".
The very nature of these rubber balloons, used for recreational or commemorative purposes, makes them pollutants. Moreover, they often come with a plastic rod, ribbon or tie which also pollute.
Have fun without the balloons
Rubber balloons are usually manufactured by a polymerisation process and, as a result, are not biodegradable.
Although you may find balloons marked "100% biodegradable", the use of this term is not subject to any standards or regulations. Moreover, their degradability requires specific conditions and a determined lapse of time.
So even "biodegradable" balloons are still harmful to the environment and a potential danger to wildlife. Therefore, the release of balloons into the air is definitely not recommended!
ALTERNATIVES: APPEAL FOR IDEAS
Alternatives already exist, such as natural soap bubbles, paper pompoms, candles, kites, spinners, bunting, streamers, etc.. But if you really must use balloons, then keep them indoors, if possible, in order to reduce the risk of debris and make sure any outdoor balloons are firmly attached. Avoid using non-biodegradable mylar film models and check that all balloons and attachments (such as clips and ribbons) are picked up afterwards. Or why not call upon your own imagination? Who knows what creative idea you might come up with for a unique alternative! Don't hesitate to let us know via our Facebook page devoted to this initiative!