AN IMMERSIVE AND INTERACTIVE EXPERIENCE
OUT OF THE ORDINARY FOR ALL
This summer, dive on the Great Barrier Reef at the Oceanographic Museum of Monaco,
to meet its most emblematic species!
Welcome to our life simulator
in the heart of the Oceanographic Museum
Get ready for some great encounters
Enter the IMMERSION hatch, get advice from your dive guide and discover the different species you might encounter. Here, all encounters are possible in a single dive: from humpback whales to carpet sharks, from barracudas to fluorescent corals…
Let's go for a trip to the surface
Contemplate and interact with the species you encounter, as if you were diving.
Before your eyes is revealed an incredible biodiversity sheltered in the heart of one of the 7 natural wonders of the world, the Great Barrier Reef, the largest coral ecosystem on the planet. Discover the richness of life on the Great Barrier Reef from sunrise to sunset.
At the end of your virtual dive, at the crossroads of contemplation and interaction, discover that coral reefs, true oases of life, are unfortunately threatened and that it is necessary to act to protect them
IMMERSION In a few words :
A fully reconstructed living environment that will react to your movements.
Species modeled from real images, movements and interactions recreated from behaviors observed in the wild to offer you a realistic diving experience.
Day and night scenarios have been freely imagined to offer you a "single dive" to meet the most emblematic species of the Great Barrier Reef.
Projection walls 9m high!
TRIBUTE TO THE
GREATER CORAL BARRIER
Scripted by an international team of designers, in close collaboration with the Oceanographic Museum and its partners, as well as divers and biologists, the experience is intended to be both entertaining and engaging.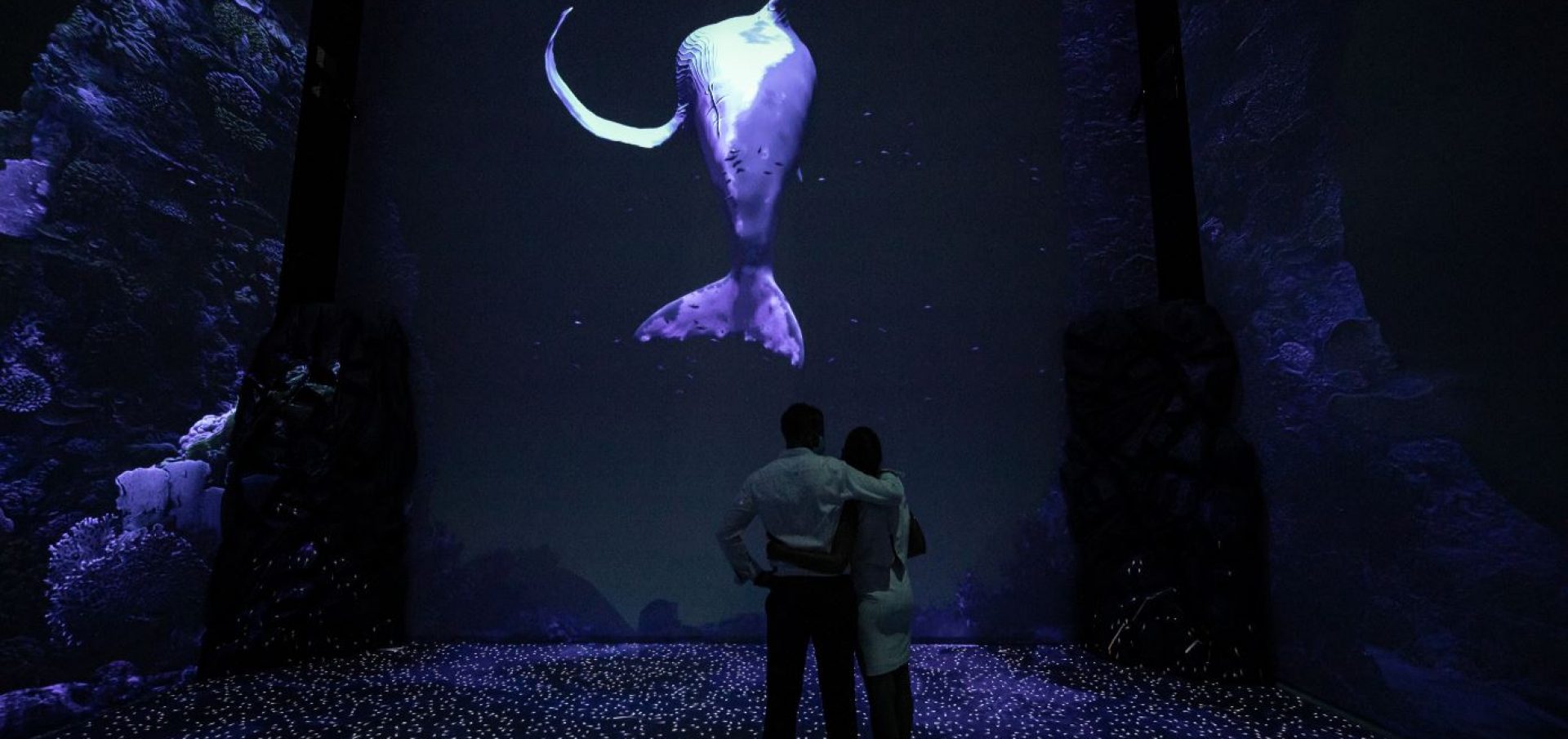 The technologies used have a realistic and natural rendering thanks to the real time projection system. Get into the skin of a diver exploring his environment. Interact with the different marine species and have fascinating encounters!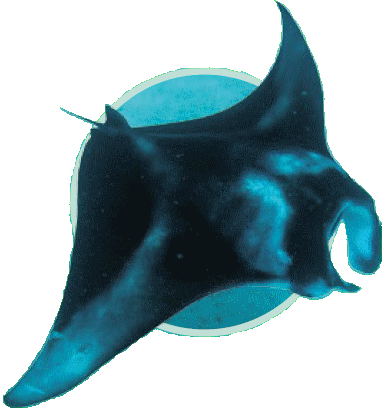 Lives between -1 and -120 m
Size up to 7 m 
Lives between –10 and –400 m
Size up to 2 m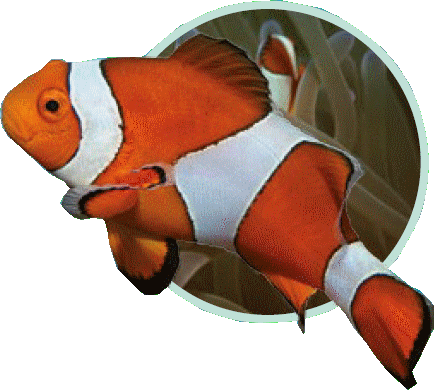 Lives between –3 and –15 m
Size up to 11 cm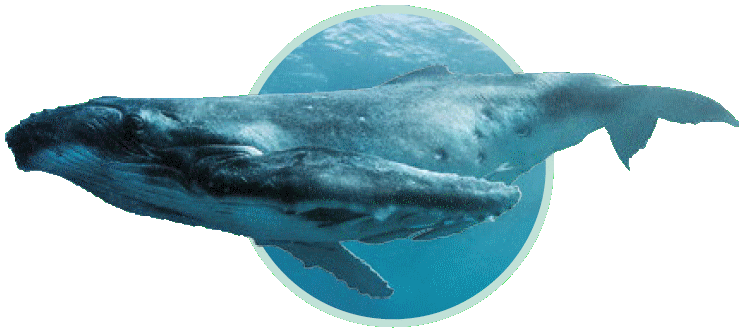 Lives between –1 and –170 m
Size up to 19 m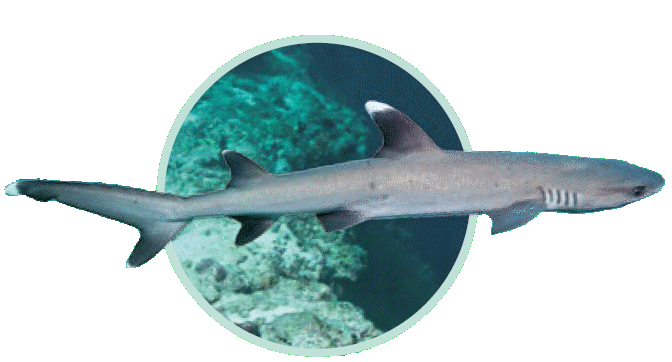 Lives between -1 and -330 m
Size up to 2 m and more, for large individuals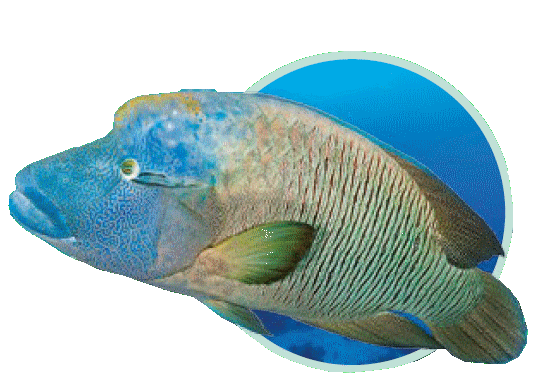 Lives between –1 and –60 m at least
Size up to 2,30 m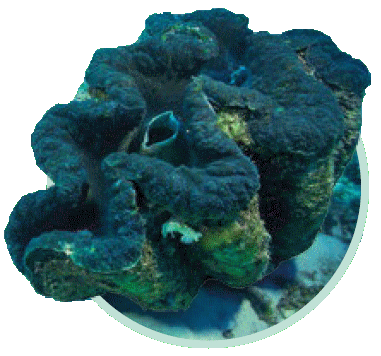 Lives between –50 cm and –15 m
Size up to 1,50 m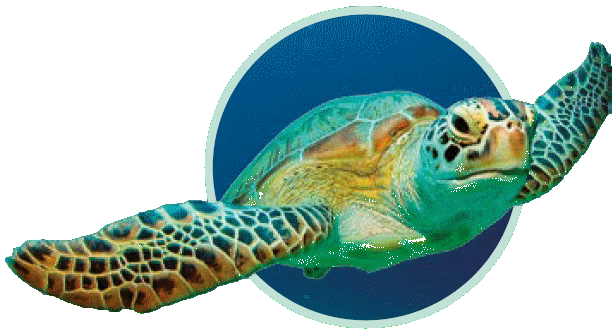 Size the carapace can up to 130 cm long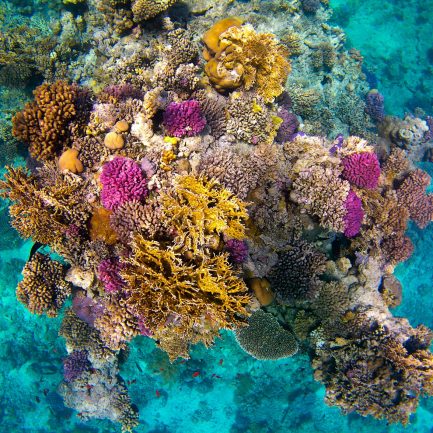 At over 2,300 km in length and 348,000 km² in area, the Australian Great Barrier Reef is the largest animal-made structure on the planet. This feat is the result of small animals that are great engineers: the reef-building corals. They secrete a calcareous skeleton making them the main actors of underwater buildings. Commonly called "hard corals", there are about 1,600 species. Since 1981, the Great Barrier Reef has been listed as a UNESCO World Heritage Site, joined in 2008 by the double barrier reef of New Caledonia.
Although they cover only 0.2% of the oceans, coral reefs are home to 30% of marine biodiversity. These oases of life, essential to mankind in many ways, are nevertheless threatened on a large scale. As part of its 2020 thematic programme devoted to coral reefs, of which the "IMMERSION" exhibition is the high point, the Oceanographic Museum is offering as many people as possible the opportunity to witness the beauty and fragility of these ecosystems.
Source: Coral, A treasure to preserve. Editions Glénat, in partnership with the Oceanographic Institute, 2020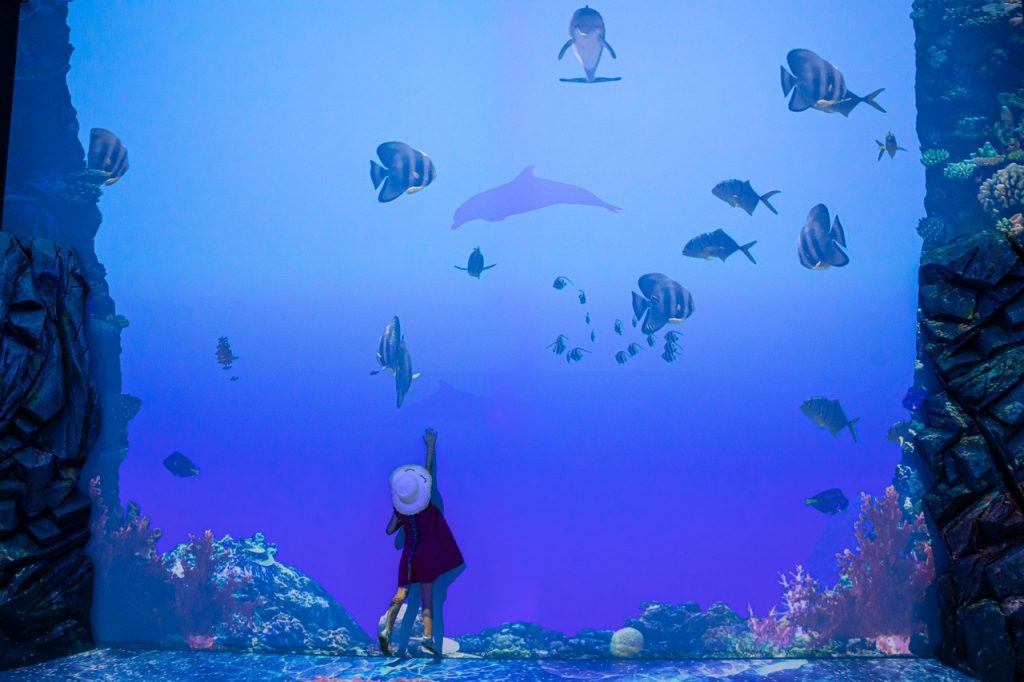 Today, the Sovereign Prince of Monaco is by right the Honorary President of the Institute's Board of Directors, which is composed of ten members who maintain close ties with the Principality. Two of them are also appointed by the Sovereign Prince, today H.E. Mr Bernard Fautrier, Vice-President and Managing Director of the Foundation, Minister Plenipotentiary in charge of missions to the Ministry of State for issues related to sustainable development, and Mrs Marie-Pierre Gramaglia, Government Counsellor – Minister of Equipment, Environment and Urban Planning in the Government of Monaco. As a result, the Government of Monaco is one of the closest partners of the Oceanographic Institute.
In June 2006, H.S.H. Prince Albert II of Monaco created his Foundation to respond to the worrying threats to our planet's environment and to promote sustainable development. At the international level, the FPA2 mobilizes citizens, politicians, scientists and economic actors to defend nature, the common heritage of humanity. The APF2 supports projects to protect and restore coral reefs impacted by climate change. It is committed to developing Marine Protected Areas to safeguard these ecosystems, which are essential to biodiversity and the livelihood of local populations.
For nearly a century, Rolex has supported pioneering explorers, pushing the boundaries of human endeavour. With the Perpetual Planet campaign, launched in 2019, Rolex is making a long-term commitment to help explorers protect the environment.
Rolex's commitment to the ocean is reflected in partnerships with the National Geographic Society and Sylvia Earle's Mission Blue initiative, for example, and in the Principality of Monaco, beyond the Oceanographic Institute, the company supports the Monaco Blue Initiative, Monaco Ocean Week and the Yacht Club of Monaco.
As Monaco's leading bank, CFM Indosuez is passionate about its commitment to society and the environment. Its support for the Oceanographic Institute aims to accompany its teams in their mission to raise awareness, convince and engage as many people as possible in protecting the ocean and its biodiversity. Created in 1922 by Sovereign Order, CFM Indosuez is both internationally oriented and firmly rooted in the Principality, with 30% of its shareholders being Monegasque. The bank has adopted the raison d'être of its majority shareholder, the Crédit Agricole Group: to act every day in the interests of its customers and society.
In charge of managing, operating and developing France's 3,000 stations, SNCF Gares & Connexions is committed to constantly improving the quality of its operations, inventing new services and modernising its assets for its 10 million passengers and visitors every day. Born of the conviction that stations are places of life in their own right, it is constantly enriching these "urban villages" in order to contribute to the dissemination of culture to all audiences. In close collaboration with the major cultural institutions, both national and local, SNCF Gares & Connexions designs more than 100 exhibitions, interventions and artistic events each year, most of them new, throughout France. Art in stations, as a new invitation to travel.
For its 50th anniversary, October 2019 marked the inauguration of the South extension of CAP3000, with 135,000 m2 offering an experience that goes beyond shopping, in a grandiose site with a sea view. Following the opening of the immersive 360° video space OCEANS, and CAPSULE@CAP3000, its innovative concept store dedicated to digital trends where art and culture meet, CAP3000 is rethinking itself as a real place to live. Around an enhanced experience with ever more sensory experiences thanks to 70 new stores, 250 boutiques, 40 panoramic restaurant spaces with a sea view in the long term and an expanded range of services simplifying the shopping experience, around a responsible and socially responsible CSR approach. The first centre in the world to be awarded the Biodivercity label, and the 4th largest employer in the Alpes-Maritimes, CAP3000 is committed to being Europe's most beautiful new-generation shopping centre by the sea by 2020.
Every month, the Le Parisien-Aujourd'hui en France brand reaches 22 million French people* with a diversified news offering (national, international and local news). 3It is the world'ssecond largest press brand and owes its success to its non-partisan editorial line and to the fact that it helps its readers to understand the world of today and tomorrow. Le Parisien – Aujourd'hui en France, the number one newspaper in France in terms of circulation, has a daily circulation of 290,355 copies**. Le Parisien also publishes Le Parisien Éco every Monday and the news magazine Le Parisien Week-end every Friday. LeParisien.fr is the3rd largest news brand in France with 19.6 million internet users***.
*ACPM One Next 2019 – Brand 30 J
CMPA – DFP – Le Parisien/Aujourd'hui en France coupling – PV 2018/2019
Médiamétrie Internet Global Sept. 2019
The magazine for 7-12 year olds, to learn while having fun!
Every month, Science & Vie Découvertes offers its young readers 84 pages to devour, with: a large thematic dossier, news on animals, science, cinema, books, exhibitions… comics and games. Science & Vie Découvertes allows children to understand the world around them on their own and leads them to new paths of exploration.
An ideal magazine to awaken your curiosity, develop your imagination and discover the world in a fun and interactive way.
Science & Vie Découvertes is every year : 12 issues + 4 special issues
Science & Vie Découvertes is also on the web with news, videos, games…
Special program around the great expeditions of Laurent Ballesta
In September on ARTE and arte.tv
Since 2013, ARTE has been following the Gombessa expeditions of biologist and underwater photographer Laurent Ballesta with the aim of bringing these spectacular expeditions to the general public to discover new marine ecosystems and behaviour. In July 2019, ARTE's cameras followed him on his last major expedition: Planet Mediterranean(Gombessa V). Trailer:


https://youtu.be/tBeGrieGzQY



To accompany the broadcast of this exceptional film, ARTE will propose the re-broadcast of
700 sharks in the night
(about another expedition by Laurent Ballesta) and new documentaries about the sea and the oceans such as
The Drunkenness of the Deep, Orcas in Peril
…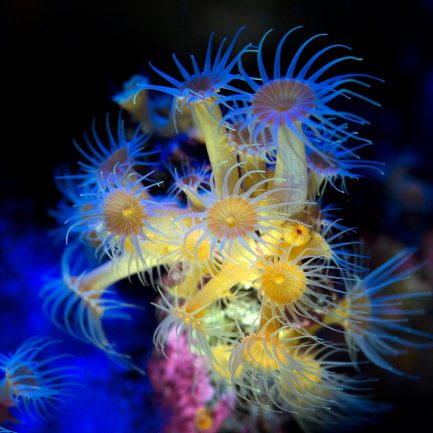 The Aquariums of the Museum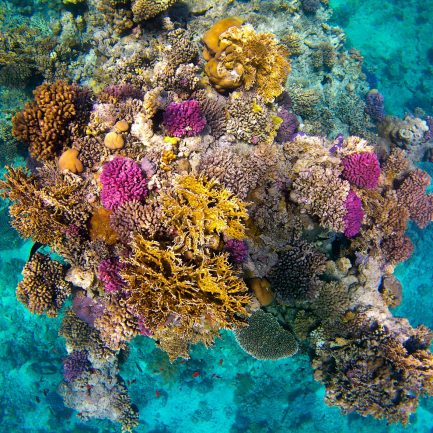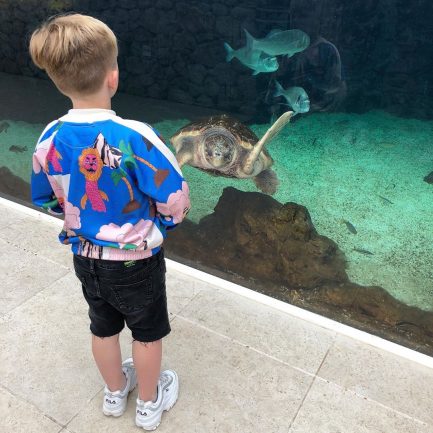 The Odyssey of Sea Turtles